Business Phone Systems
TRI-TEC Designs Telecommunications Solutions That Make
Work Easier, Faster And More Profitable
Contact Us
TRI-TEC's Consultation Is Like No Other
Our Processes Include:
Pre-field Survey And Assessment
Telecommunications Cost Analysis
Custom-Design And Demonstration
Project Implementation And Installation
System Testing And Reporting
Professional And Personalized Training
Responsive Service And Support
Trust

TRI-TEC's Consultative Services

For Your Business Phones
CONSULTATION  – Resilient Business Phone Systems
Finding A Balance Between Innovation And Cost Savings Can Be Tricky – We Can Help!
Intelligent project management for all your voice and data telecommunications is essential to the continued success of your operations. Finding the right solutions at the right cost at the right time takes skill, especially as you decipher between an on-premise, Cloud or hybrid solution for your business telephones. TRI-TEC has extensive experience in this arena and we can help take out the "confusion" when implementing new technologies. We know the best innovations available on the market today and have strategically aligned ourselves with the top providers for hardware, software, Cloud, carrier services and more.
TRI-TEC was established in 1990, helping organizations throughout the Pacific Northwest and beyond with all their telecommunications needs to include vertical markets within education, not-for-profit, entertainment, retail, hospitality, government and commercial. We retain manufacturer certified technicians at all times and ensure employees are cross-trained on every product we support. Additionally, we house the Northwest's largest inventory of spare parts at our headquarters, enabling us to provide 24 x 7 x 365 emergency support for any downed telephone system or network.
We Strive To Learn Your Business
As a premier systems integrator, it is important for us to know the intricacies of your organization so that we can make sound, reliable recommendations for your voice and data infrastructure. Our consultative approach is designed whereas we meet with you to assess and learn precisely how your internal processes function. TRI-TEC can then help you streamline operations with our recommended Unified Communication solutions. Today's professionals demand instant access to communications with mobility as a priority. Our product offerings can enhance the way you operate.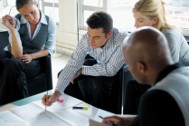 They have a very down to earth and approachable staff and they are quite flexible and easy to work with.
Matt,
Tacoma Museum
Voice, Data, Cloud And Carrier —
Anytime, Anywhere.
TRI-TEC helps Washington businesses, schools and non profit organizations select, design, implement and manage technology solutions for success. Increase efficiency, reduce expenses and improve responsiveness with TRI-TEC. Learn more about businesses we've helped.
Are You Ready To Get More From Your Business Phone Investment?
Our Telecommunications Systems Clients experience better service, solutions and support now. Engage TRI-TEC on your project.