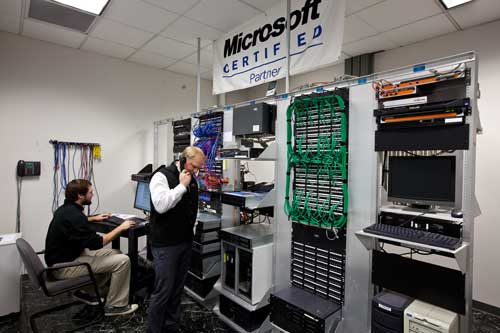 We Can Make Recommendations For Your Network
That Will Help You:
Protect Your System Investments And ROI
Reduce Costs And Obsolete Processes
Provide Leading-Edge Solutions And Applications
Simplify Administration Of Systems
Streamline And Unify Disparate Systems
Assist Your Internal IT Department
Improve Your Customers' Overall Experience
We Are

Experienced Technology

Consultants
CONSULTATION – Secure Network System Solutions
Network Services That Improve Efficiency, Reliability And Speed
Organizations today rely upon fast, secure and private networking solutions for all their internal and external operations. On-going cyber threats can pose a very real, very threatening obstacle. Storage, security and encryption are essential when it comes to protecting your data. TRI-TEC provides the confidence you need when implementing new or revised network solutions.
TRI-TEC is a leading provider of Unified Communication and network solutions, providing best of breed of professional services and products from a wide array of technologies. We have almost thirty years of experience helping businesses throughout Washington select the best telecommunications, network infrastructure and cabling solutions. Our partnerships with multi-vendor, multi-technology environments enables us to offer a wide range of customized services.
TRI-TEC is a turn-key telecommunications solutions provider for all things IT. Our network consultative services include:
Project Consulting And Assessment
Administration And Management
Security Review And Implementation
System Design, Planning And Installation
Customized, Professional Training
We have partnered with the top technology manufacturers within the industry. Our network product offerings include:
TRI-TEC maintains a high level of technology expertise. We provide practical, trust-worthy solutions that address our clients' needs both now and long-term, thus protecting your technology investment. We are committed to integrity and honesty and recognize that providing exceptional customer service is the core of our business.
They have a very down to earth and approachable staff and they are quite flexible and easy to work with.
Matt,
Tacoma Museum
Voice, Data, Cloud And Carrier —
Anytime, Anywhere.
TRI-TEC helps Washington businesses, schools and non profit organizations select, design, implement and manage technology solutions for success. Increase efficiency, reduce expenses and improve responsiveness with TRI-TEC. Learn more about businesses we've helped.
Are You Ready To Get More From Your Business Phone Investment?
Our Telecommunications Systems Clients experience better service, solutions and support now. Engage TRI-TEC on your project.