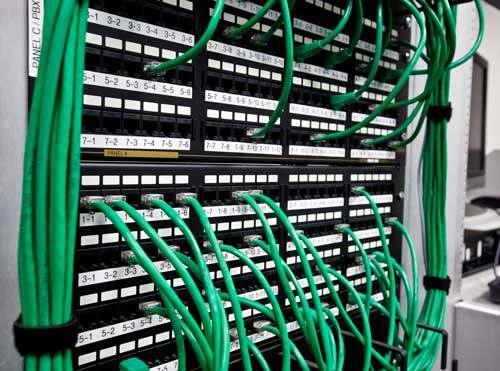 TRI-TEC Is Certified To Provide The Following:
Cat 3
Cat 5, 5e, 5E
Cat 6
Cat 7
Single-Mode And Multimode Fiber
GPON And PON
Coaxial Cable
Paging Systems
Wireless Solutions
Low Voltage Licensed Contractor
Peripherals, Jacks, Patch Panels And Faceplates
Efficient Operations Start With A

Sound Networking Infrastructure
CABLING / INFRASTRUCTURE
Is Your Cabling Infrastructure Streamlined For Success?
TRI-TEC configures streamlined, scalable network cabling solutions for professional and financial firms, schools, government, nonprofit organizations and businesses in a variety of industries across Washington state and abroad. Whether you need assistance optimizing your WAN, tweaking your cabling or designing your network for maximum efficiency, you can count on TRI-TEC to provide smart, sound networking infrastructure solutions for your business.
TRI-TEC has extensive experience in cable plants and infrastructure and is manufacturer certified in the engineering and installation of enterprise building and large venue solutions.  We are a licensed contractor registered in low voltage in the state of WA. We have provided cabling for companies from various vertical markets to include small single-site offices, to large hotel resorts to enterprise-wide organizations with multiple offices across the country.
TRI-TEC owns and operates an extensive inventory of wire locators, impedance testers and cable certification tools, including the Fluke DSX-5000 cable analyzer.  We also hold certifications in TE (AMP), Fiber, GPON and PON and Copper. We house the Pacific Northwest's largest inventory of spare components that are readily available at our headquarters and an essential component to being able to offer our 24 x 7 x 365 day emergency response.  Our TRI-TEC clients have come to rely upon our product inventory, maintenance and technician availability which is something no other telecom provider in our region is equipped to support.
Prior to "Go-Live" TRI-TEC will perform testing, support and knowledge transfer of your new wiring with a review of cabling configuration and the various hardware components in place.
Contact TRI-TEC today to ensure your network can power business growth.
The work provided to us has been very thorough and the technicians always take the time to explain his/her work and what we can do together.
Sok,
Renton Technology Firm
Voice, Data, Cloud And Carrier —
Anytime, Anywhere.
TRI-TEC helps Washington businesses, schools and non profit organizations select, design, implement and manage technology solutions for success. Increase efficiency, reduce expenses and improve responsiveness with TRI-TEC. Learn more about businesses we've helped.
Are You Ready To Get More From Your Business Phone Investment?
Our Telecommunications Systems Clients experience better service, solutions and support now. Engage TRI-TEC on your project.